It finally happened
Today we are thrilled to announce that Flax Engine version 1.0 has been published. After over 8 years of constant development, including 1 year of Closed Alpha Tests followed by 1 year of Closed Beta Tests, Flax got mature and stable. It's ready to be used in serious game production. 🎉
We'd like to thank all Alpha and Beta testers (over 400 people and companies) who tried Flax and gave us lots of feedback and great memories. Especially to our community on Discord. Thank you!
---
The newest update brings lots of tasty features such as Full Source Code release, Visual Scripting, Android support, Vertex Painting, Contact Shadows.
In this post, we will review this update highlights and focus on the most interesting stuff. To see detailed information visit the official release notes.
---
Wake up Samurai. We have Flax 1.0 to see!
We've prepared a special video with many great features to showcase. Share it and enjoy!
DOWNLOAD
---
Highlights
Full Source Code Release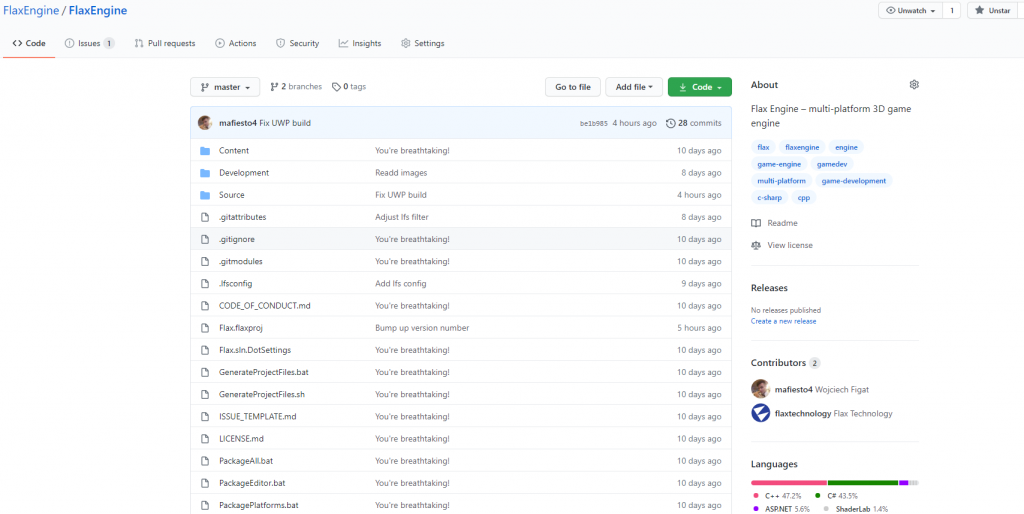 We did it! We've released the full source code of the Flax Engine including C++ core and C# editor with all tools and platforms. The sources are available on Github here. This repository is using Git LFS and is a mirror of our internal server. From now on, the previous FlaxAPI repo will be deprecated and we encouruge you to report issues on the new FlaxEngine repo. Also, we're open for Pull Requests so feel free to contribute!
Of course, Flax Engine source can be used just like binaries we distribute via Flax Store. It's licensed under our EULA license. For teams that want to use a custom version of the engine feel free to fork it and customize it (helper docs here).
New licensing
Along side 1.0 update and source code release we've increased the minimum limit for Flax revenue share from $3,000 to $25,000. Which means that if your game earns $25,000 (or less) per calendar quarter you don't have to pay for using Flax. All sales above it are using 4% revenue share. More info about licensing here.
This change makes Flax cheaper for solo and indie developers.

Also, we disable restrictions for downloading Flax binaries via Flax Launcher – you don't need to create an account nor login to access Flax. We want to be more open!
Visual Scripting

One of the key features in this release is a brand new Visual Scripting system. Visual Scripts can implement gameplay logic with custom properties just like C# and C++ scripts. This makes game prototyping a lot easier and the engine more accessible for non-programmers.
The editor supports debugging Visual Scripts execution with breakpoints, debugger stepping, local variables, and stack trace.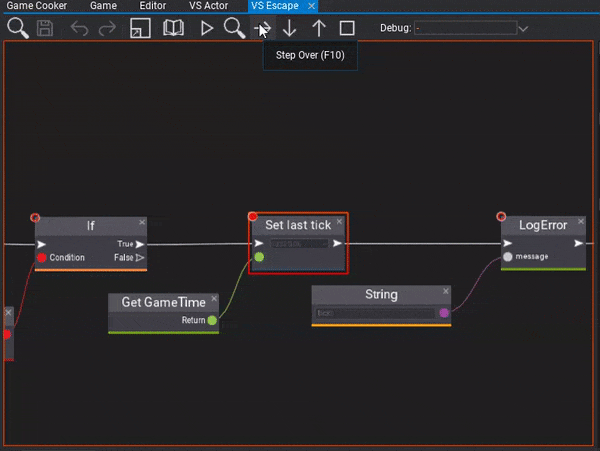 We also improved the context menu for Visject Surface that is used for materials, particles, animation, and now visual script editing. It runs faster and offers more tooltips for developers.

Android support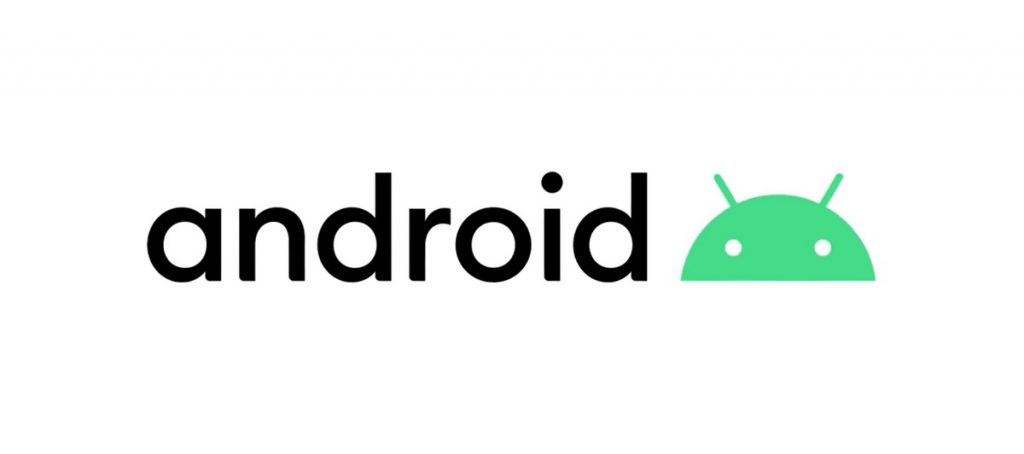 During this year we've added support for many new platforms such as Linux, PS4, and Xbox Series X/S. Now we're happy to announce Android platform support. This includes all engine features: C++, C#, Visual Scripting, Vulkan renderer, stereo audio, multi-touch input, high-dpi UI, single-click deployment, and much more.
To learn more see the official documentation about Android platform.
We've updated all Flax Samples projects to support touch display input and run smoothly on Android devices.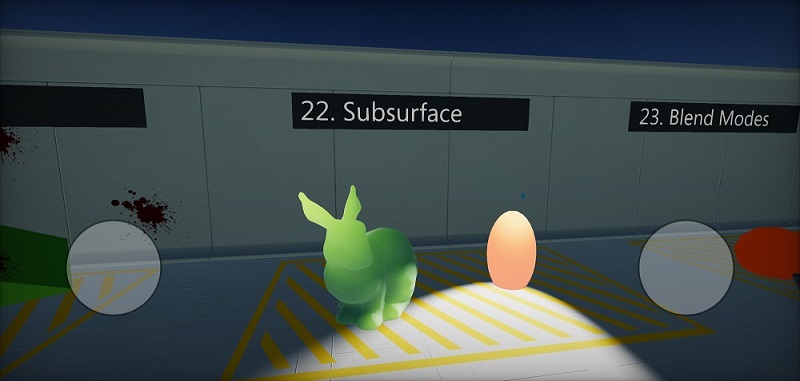 Vertex Painting

Editor toolbox just got the vertex painting utility for coloring models vertices on the scene. By using it artists can easily enrich the level content for instance by using vertex color masking in the materials. Flax already supports importing vertex colors model meshes.
Height Layer Blend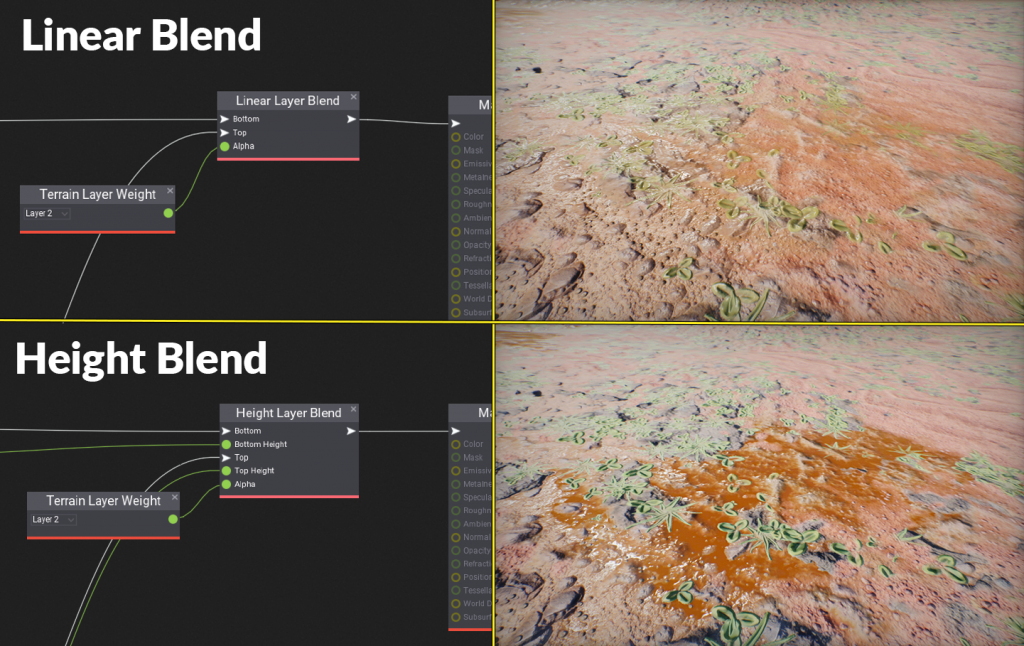 The material graph contains now a new node for easier blending between two material layers using the height map which improves the transition quality. This can boost the terrain materials quality.
Foliage Shading Model
When working on the new Flax showcase video we've developed a new shading model shader for foliage materials. It improves the look and lighting for thin leaves of bushes, trees, and grass.
Contact Shadows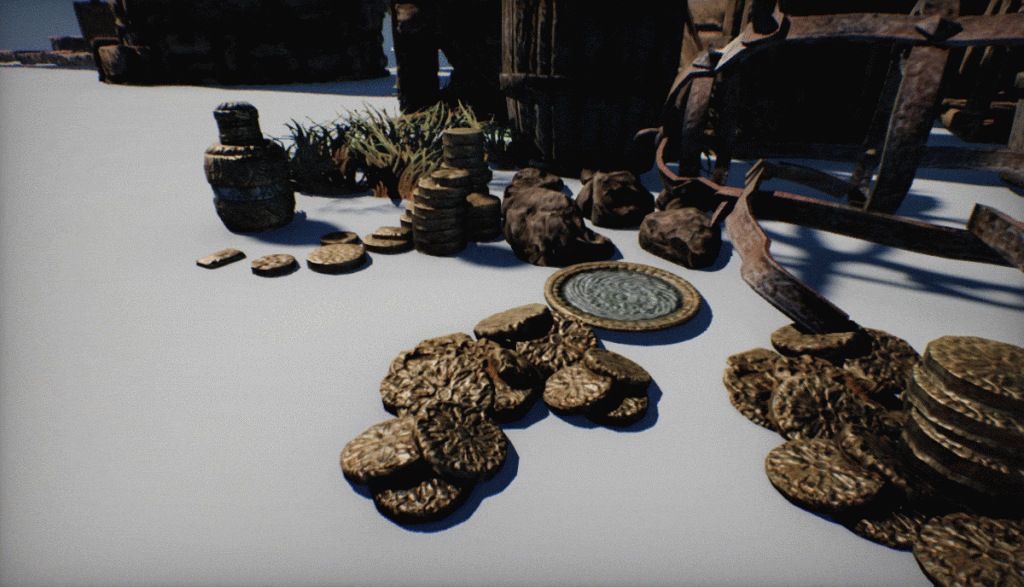 Another exciting feature is Contact Shadows rendering which gives more quality to small objects by adding more precise local shadowing. It's implemented using depth buffer raytracing and works similary to a technique used in Cyberpunk 2077.
More Editor features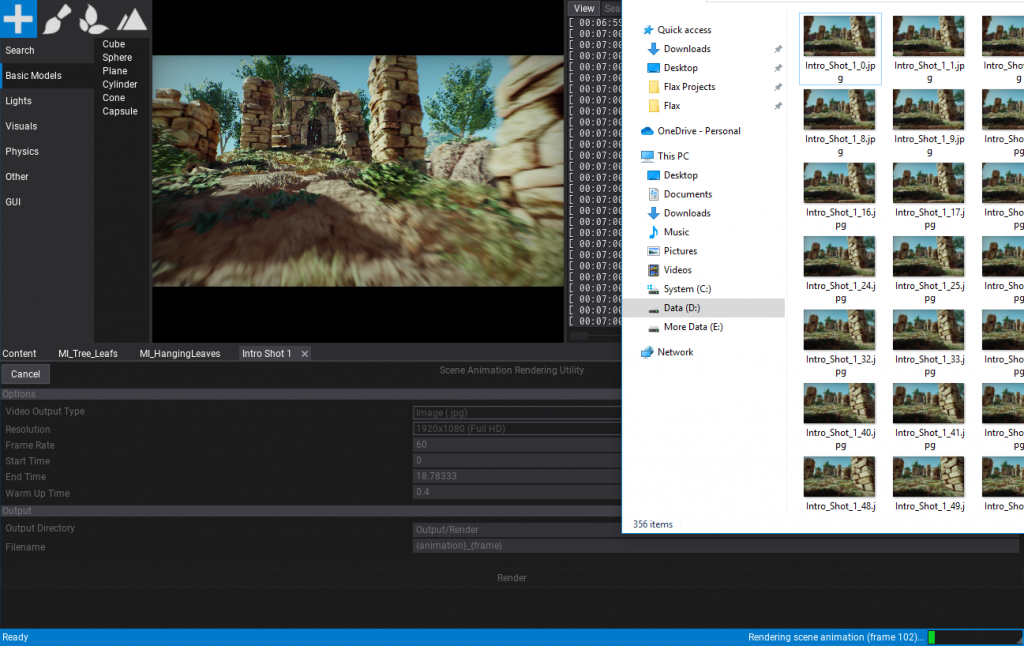 Every update brings even more features and tools to Editor. This time we did a great job of adding even more of them. Some examples of new useful stuff:
cut-scenes rendering
timeline editing improvements
animation asset tracks editing
custom scripting languages support
output log window errors/warning coloring
undo support for timeline editor
BC7 and BC6H texture formats importing support (compressed HDR)
curves editing improvements.
To learn more see the detailed changelog (but it's long as always).
---
Get started
We cannot wait to see what you create with Flax! Thanks for all your patience and support. Now it's time to spread the word, help our community to grow, and continue working on great new features (roadmap).
Stay safe and happy Holidays!